Report
Beyond Capacity 2011: A Progress Report on Cambodia's Exploding Prison Population
Released in July 2011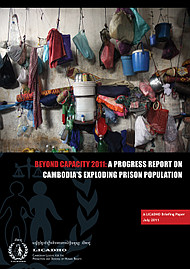 Cambodia's prison population is in the midst of an unprecedented population boom. Just seven years ago, the 18 prisons monitored by LICADHO were at roughly 100% of their collective capacity. Today, they are filled to roughly 180% of their capacity, making Cambodia's prison system among the 25 most overcrowded in the world.
This report provides an overview of the prison overcrowding crisis - its causes, its effects, and detailed statistics concerning the growing number of prisoners in Cambodia.
Click here to reach additional website supplement to the report.