Tag
Laws & Regulations
Statement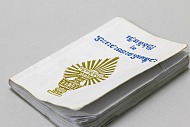 CSOs call for outright rejection of draft amendments to the Constitution and Criminal Code, amid legislative assault on Cambodian peoples' rights and freedoms
February 21, 2018
We, the undersigned organizations and communities, express our grave concern regarding the Royal Government of Cambodia's proposed amendments to the Constitution of the Kingdom of Cambodia, as well as the proposed introduction of a lèse-majesté offense to Cambodia's Criminal Code. These proposed amendments constitute a severe threat to human rights and fundamental freedoms, and are clearly designed to further criminalize any individual or entity that dares to express legitimate dissent. We are deeply concerned by this cynical attempt to deny the Cambodian people the fundamental freedoms to which they are entitled, and call for the outright rejection of these proposed amendments.
Statement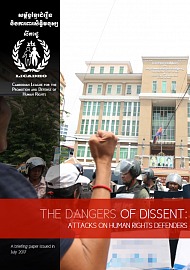 The Dangers of Dissent: Attacks on Cambodia's Human Rights Defenders
July 3, 2017
As Cambodia's human rights situation continues to backslide, exposing and speaking out against state-perpetrated abuses is ever more crucial. In the last two years, however, human rights defenders and other critical or independent voices have been among the main victims of Cambodia's fractious political situation.
In this latest in a series of briefing papers, LICADHO sets out threats facing those who stand up for human rights in today's Cambodia. Long-standing tactics used to silence human rights defenders – judicial harassment by a politicized court system; state-sponsored violence; and intolerance of peaceful protest – have been reinforced by new incapacitating laws and targeted digital surveillance. Although the examples presented in this paper are by no means exhaustive, taken together they provide a snapshot into the kinds of abuses that human rights defenders have been routinely subjected to in Cambodia over the last two years.
Flash News
Amendments to Law on Political Parties passed in boycotted National Assembly session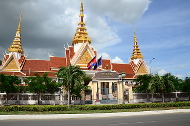 February 20, 2017 Today, the ruling-party members of the National Assembly approved amendments to the Law on Political Parties in a session boycotted by the opposition.
A draft of the law that became publicly available earlier this month contained articles creating unprecedented powers for the Supreme Court to dissolve political parties and ban political leaders for five years, at the request of the Ministry of Interior, on vague and ill-defined grounds such as potential harm to "national unity". The process has no hearing and explicitly forbids appeal.
The law would allow the Ministry of Interior to suspend political parties for a time period with no maximum duration. The law would also ban individuals with any conviction, spent or unspent, carrying a non-suspended custodial sentence from holding official roles within political parties.
The law, which still requires approval by the Senate, is designated "urgent" meaning it will be immediately implemented once it has been signed by the King.
Statement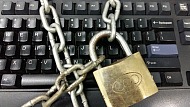 New Law on Telecommunications: A Legislative Attack on Individuals' Rights and Freedoms
March 31, 2016
Behind a façade of "technical" intent, the new Law on Telecommunications (Telecoms Law) poses a severe threat to freedom of expression in Cambodia, targeting not only online public expression but also any private communications made using telecommunications devices. In a briefing paper released today, LICADHO analyses the law's most egregious provisions – which, among others, allow the government to secretly intrude into the private lives of individuals, destroy evidence before criminal trials, and seize control of the entire telecoms industry if arbitrarily deemed warranted. Its excessive measures, particularly those creating new criminal offenses, reveal the true intent of the law: to intimidate individuals, punish the exercise of fundamental rights and freedoms and quash individual and group dissent.
Video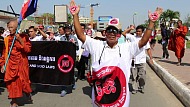 Say No! We Don't Need These Laws
July 4, 2015
The CPP, Cambodia's ruling party, has announced its intention to hold an extraordinary session of the National Assembly on July 10th, during which members of parliament will vote on whether to pass the Law on Associations and NGOs (LANGO). For the past three months Cambodian civil society has been voicing its opposition to the law and between June 28 and 30, numerous grassroots groups, networks and NGOs conducted a spirited 3-day campaign to protest against the LANGO and also the draft Trade Union Law. Both laws have been widely criticised in Cambodia and abroad for the threat they represent to Cambodian civil society. This music video shows some of the campaign events at which activists and civil society members sang and danced to a classic Cambodian pop song "I Don't Accept It". The lyrics were specially rewritten by Cambodian youths and Boeung Kak activists to express their rejection of the laws and to assert their right to gather and express themselves freely.
Memo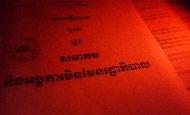 New Draft Law on Associations and NGOs Reaffirms Culture of Control
June 17, 2015
The draft Law on Associations and Non-Governmental Organizations (LANGO) obtained in June 2015 will establish mandatory registration for all domestic and international associations and non-governmental organizations (NGOs), criminalizing all activities by unregistered membership organizations. The requirement to register appears all encompassing and could be interpreted to apply to all organizations from grassroots groups and community based organisations up to major international organizations. Mandatory registration could have a particularly severe impact on the freedom of association of grassroots groups and community based organizations.
This memo is a specific breakdown of the key provisions within the approved draft law that have worsened since the December 2011 draft, and the potential impacts on groups operating in Cambodia.
Briefing Paper
Legal Analysis of Cambodia's Draft Law on Unions of Enterprises
September 18, 2014
Today, CLEC and LICADHO release a legal analysis of the latest draft of the Law on Unions of Enterprises (Trade Union Law) obtained at the end of May, this year. As unions yesterday began a nationwide campaign for a $177 per month minimum wage, the draft Trade Union Law underlines the government's intent to interfere with and infringe upon union formation and activities.
Statement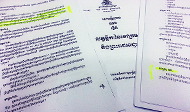 Unconstitutional Draft Laws on the Judiciary should be Rejected
June 15, 2014
On the anniversary of Cambodia's Constitutional Council, LICADHO urges the Council to reject the three new laws affecting the judiciary in their current form. The Cambodian Constitution mandates that "Judicial power shall be an independent power," and necessary implementing legislation has long been called for to strengthen the rule of law. However, passage of these laws in their current form will codify and indefinitely prolong the lack of independence currently undermining the Cambodian justice system.
Statement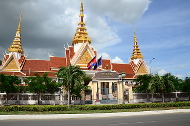 Cambodia's Legislature Dismantled on the Eve of the National Elections
June 10, 2013
Cambodia's National Assembly – its key legislative organ – has been thrust into a Constitutional crisis less than two months before the country's national elections. Last week, the National Assembly's Permanent Committee, which is comprised entirely of ruling Cambodia People's Party members, stripped all 29 opposition party members of their parliamentary status. Because this expulsion took place within 6 months of a national election, the seats left empty by the purged parliamentarians were effectively terminated and will remain so under until after the election.
Statement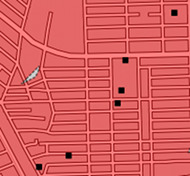 New Circular Aims to Shut Down Internet Cafes in Cambodia
December 13, 2012
The government has issued a new circular ordering the closure of all Internet cafes within a 500 meter radius of schools and educational institutions – an order that, if implemented, would amount to a near-complete ban on such businesses in central Phnom Penh.
The circular, issued by the Ministry of Posts and Telecommunications on November 12, 2012, also provides for further restrictions not limited by this school buffer zone. All Internet cafes are also required to forbid playing "all kinds of games," essentially equating such activity with viewing pornography or committing crimes
Briefing Paper
Cambodia's Draft Law on the Management and Use of Agricultural Land
July 23, 2012
Late last year, the Cambodian government quietly released a draft Law on the Management and Use of Agricultural Land that would have serious implications for private landholders. The draft law as currently written could be used as legal cover for land-grabbing and for those who wish to exploit and personally profit from Cambodia's land and resources. Most alarmingly, the law creates felony criminal liability for any actions that violate the law's far reaching provisions. The following aspects of the draft law require immediate scrutiny and substantial revisions.
Briefing Paper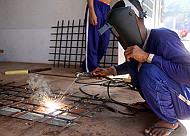 Comments and Recommendations on Inter-Ministerial Prakas on the Prohibition of Using Prison Labor for Producing Export Goods
May 9, 2012
New government regulations take the important step of banning the export of prison-made goods, but fall short of fully protecting inmates from exploitation by private firms, according to a new briefing from LICADHO.
LICADHO believes that the export ban is an important step in protecting Cambodia's reputation as a reputable supplier in the international garment industry. But the prakas fails to fully ban private firms from using prison labor for domestic production, which leaves prisoners open to systematic rights violations.
Statement
Revise or Abandon Draft NGO Law: Donors Should Insist on Protections for Civil Society
December 22, 2011
Donors, who provide approximately half of Cambodia's national budget, should make clear to the Cambodian government that the fourth draft of the Law on Associations and NGOs (LANGO) must be revised to protect civil society or be withdrawn, a group of concerned international human rights organizations said today. Any revisions should involve meaningful consultation with civil society organizations and aim to support their activities instead of creating a legal framework allowing for arbitrary closure of organizations or the denial of registration.
Report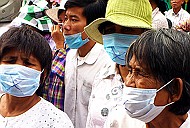 The Delusion of Progress: Cambodia's Legislative Assault on Freedom of Expression
October 26, 2011
Since 2008, the Cambodian government has embarked upon a furious campaign to propose and enact a wide range of new laws. While this new legislation is typically touted as evidence of Cambodia's progress toward the rule of law, a new LICADHO report has found that in many cases, it actually marks the opposite.
In the report, "The Delusion of Progress: Cambodia's Legislative Assault on Expressive Rights," LICADHO analyzes five key laws proposed or enacted since 2008: the Penal Code, the Anti-Corruption Law, the Law on Associations and NGOs, the Law on Peaceful Assembly, and the Law on Unions of Enterprises. Overall, the analysis reveals several disturbing trends: Legislation is littered with improper restrictions on freedom of expression, provisions are misapplied, and vast sections are deliberately drafted to be used as weapons against those who speak out against the political and financial elite.
Briefing Paper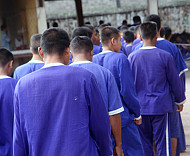 Comments and Legislative Recommendations on the Draft Law on Prisons
October 19, 2011
A draft prison law which is set to go before the National Assembly is a positive step for Cambodia's prison system, but falls short of fully protecting prisoners' rights in several key respects.
The draft law's shortcomings are detailed in a new briefing paper from the Cambodian League for the Promotion and Defense of Human Rights (LICADHO). The paper also highlights a handful of the law's positive provisions.