Video: The Impact of Development and Forced Evictions on Women in Cambodia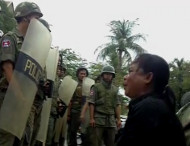 October 20, 2011 - Through Cambodia's infamous Boeung Kak Lake land grab, this LICADHO video takes a look at three incidents showing the impacts on women within communities affected by forced evictions. These abuses are perpetrated in the name of "development".

The incidents, three out of many, occurred in 2011.