Video: Pushed to the Edge: The Death of a Boeung Kak Lake Activist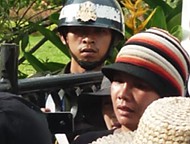 November 24, 2011 - On November 22, 2011, Boeung Kak Lake resident Chea Dara leaped to her death from a bridge in Phnom Penh. She was actively involved in the lake residents' struggle against their wrongful eviction from the site. Although a deal was reached earlier this year to resettle most of the remaining families, Chea Dara's family was arbitrarily excluded. After years of fighting for justice, she lost hope. This video commemorates her life.

Music: "Have Compassion for Us", from the Boeung Kak Lake produced "Development Separates Families" CD.