Statement
ADHOC, CLEC and LICADHO Call for the Immediate Release of 17 Activists and Observers in Koh Kong
Joint Organizations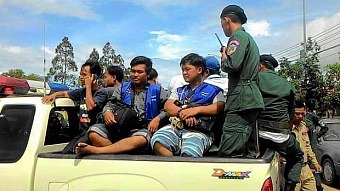 Enlarge this picture
Photo credit: Sorn Chandara
September 2, 2015 - ADHOC, CLEC and LICADHO are outraged by the detention of 17 protestors, NGO staff and media workers in Koh Kong's provincial police station and call for their immediate release. The 17 were detained in the midst of a gathering calling for a solution to Chi Khor Krom community's land conflict. The gathering involved 50 youths and land activists who had also participated in daily peaceful protests against the arrest and imprisonment of three activists from NGO Mother Nature since August 19.
The youth and land activists had gathered near Koh Kong provincial court in the morning to support nine Chi Khor Krom community representatives who had been summonsed – as plaintiffs and witnesses – before the court to answer questions today in relation to a six-year land conflict with a company owned by tycoon Heng Huy. The community intended to submit a petition at the same time calling for a solution to their land conflict.
At about 10:30am, police removed human rights monitors – including one NGO medic – and two media workers from the protest nearby Koh Kong provincial court, and took them to the police station. Authorities then seized seven protesters and activists while dispersing the group. Earlier this morning, the group had been blocked from gathering outside the court by police and a new counter-protesting group of civilians allegedly coordinated by local authorities.
"This is clearly a reaction to three weeks of peaceful protests by Mother Nature activists, supporters, and the local community," said Naly Pilorge, LICADHO Director. "Detaining observers, media and a medic as well as protestors is yet another scare tactic now used by the government to intimidate and suppress peaceful dissent of grassroots groups."
Ten protestors, including one Mother Nature staff member and two Areng Valley activists have been detained, in addition to ADHOC's Provincial Coordinator, one Khmer Post journalist and one citizen journalist affiliated to CLEC, and four LICADHO staff, including one doctor.
Update: All 17 activists and observers were released from Koh Kong provincial police station at 6.15pm after nearly eight hours in detention
For more information, please contact:
▪ Mr. Moeun Tola, Head of CLEC's Labor Program, 012 921 961
▪ Mr. Thun Saray, ADHOC President, saraythun@gmail.com
▪ Mr. Am Sam Ath, LICADHO Technical Supervisor, 012 327 770
PDF format: Download full statement in English - Download full statement in Khmer
MP3 format: Listen to audio version in Khmer