Article
Preah Vihear community representative missing for two months
Published on March 21, 2019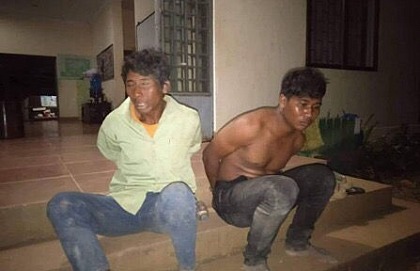 Enlarge this picture
Preah Vihear community representative Sum Meun (left) and his son photographed outside the wildlife sanctuary office on January 20. (Source: community members)
Today marks two months since Preah Vihear community representative Sum Meun disappeared after he was beaten and illegally arrested by armed military officials. The disappearance was part of a slew of arrests made over two weeks in January of villagers entangled in a conflict with a land concession granted to Metrei Pheap Kase-Ousahakam Co. Ltd. The company has links to tycoon An Mady.
The 54-year-old Meun and his son, Meun Mean, were arrested on January 20 by military soldiers from Battalion 261 under RCAF Intervention Brigade 6 - acting as security guards for the concession holder in Choam Khsant district's Yeang commune. Witnesses reported that Meun was beaten following his arrest. The pair was then transferred to the Koulen Promtep Wildlife Sanctuary Headquarters where they were both detained overnight.
On the morning of January 21, Meun disappeared from the sanctuary office and his fate has been unknown for the last two months. Officials from the wildlife sanctuary claimed that the 54-year-old man jumped over a fence and escaped. However, no arrest warrant was immediately issued following the alleged escape.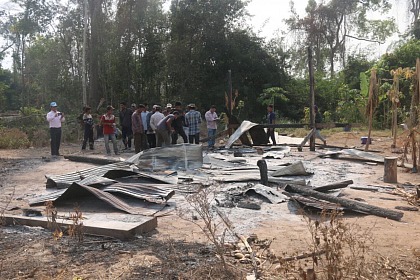 Enlarge this picture
Villagers look at a burned house in Preah Vihear's Choam Khsant district.
Since January 21, authorities have failed to provide any credible evidence about Meun's location, claiming at different times that he was hiding at an undisclosed location in Phnom Penh or receiving medical treatment in the capital. On March 18, Meun's wife petitioned the provincial authorities and a Preah Vihear lawmaker to help locate her husband.
So far, the January wave of arrests has resulted in 14 people held in pre-trial detention at Preah Vihear provincial prison, including Meun's son. They have been charged under Articles 62 and 54 of the Law on Natural Protected Areas, relating to the clearing of forestland, and can face up to ten years in prison and 150 million riel in fines.
These arrests build on years of harassment of villagers in that community at the hands of authorities, including the burning of homes, arbitrary arrests and continued intimidation of villagers locked in this land conflict.
MP3 format: Listen to audio version in Khmer
0%
100%
0%
0%