Report
Cambodia Prison Overcrowding Crisis Only Getting Worse
Published on July 4, 2011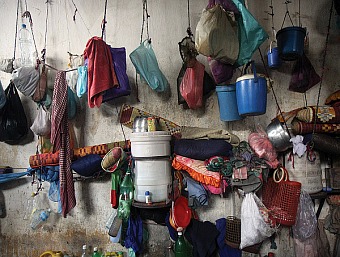 Enlarge this picture
Prisoners' belonging are often hanged to the walls and ceiling of their prison cell to save space.
One year after LICADHO warned that Cambodia's prisons were in danger of becoming the world's most overcrowded, the country's inmate population continues to spiral out of control.
In late April 2011, Cambodia's total prison population stood at 15,001, a 12.6% increase over March 2010. That figure brought prison occupancy to 179%, keeping Cambodia's prison system among the 25 most overcrowded in the world. The system could overtake the top spot by 2019 if current trends continue.
The new data is detailed in LICADHO's most recent prison report, "Beyond Capacity 2011: A Progress Report on Cambodia's Exploding Prison Population,".
Topics & Tags
Related Material