Flash News
Former RFA Journalists Charged With Espionage
Published on November 18, 2017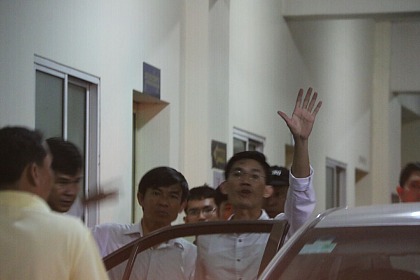 Enlarge this picture
Former RFA journalists Yeang Sothearin and Uon Chhin are taken from Phnom Penh Municipal Court to CC1 prison on 18 November 2017.
Two former Radio Free Asia (RFA) journalists were charged at Phnom Penh Municipal Court this afternoon on suspicion of espionage and sent to pre-trial detention at Correctional Centre 1 (CC1). Yeang Sothearin and Uon Chhin have been detained by police since Tuesday night, accused of sending news reports to US-based media.
Both men worked for RFA until the media outlet shut its Phnom Penh Bureau on 12 September 2017, citing government repression and the forced closure of its FM radio broadcasts.
Yeang Sothearin and Uon Chhin were charged under Article 445 of the Criminal Code which covers providing information to foreign states or agents which can "undermine national defence". The charge carries a prison sentence of between 7 and 15 years.
14%
0%
86%
0%