Statement
LICADHO to Mark International Children's Day 2011 with Prison Visits
Cambodian League for the Promotion and Defense of Human Rights (LICADHO)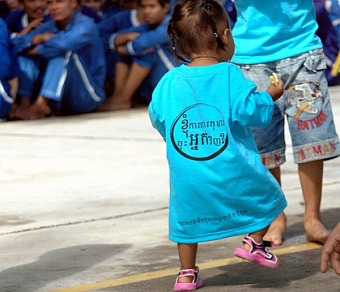 Enlarge this picture
Toddler living in prison with her mother enjoying International Children's Day.
June 1, 2011 - Phnom Penh - LICADHO and friends will mark International Children's Day on June 1, 2011 by distributing food and materials to children and pregnant women in 14 of Cambodia's prisons.
In cooperation with prison department at Ministry of Interior, LICADHO will also hold special Children's Day events at Correctional Center 2 ("CC2") and Takhmao prisons. The events at CC2 and Takhmao will include games, prizes and guest speakers who will discuss children's issues.
Some 730 juvenile prisoners were incarcerated in Cambodia's 25 prisons as of April 2011, according to government statistics. The General Department of Prisons defines juvenile prisoners as those who were between ages 14 and 17 when they committed their crime; they may continue to be classified as juvenile prisoners if they reach their 18th birthday in prison. Fourteen is the age of criminal responsibility in Cambodia.
Cambodia's prisons are also home to approximately 14 pregnant women and nearly 40 children who live with their incarcerated mothers. Children are permitted to stay with their mothers in prison until the age of six.
With Cambodia's prison overcrowding crisis already stretching prison budgets thin, children often bear the brunt of the system's dysfunction. In most provincial prisons, for example, minor prisoners are fully integrated with the adult population. Food rations are inadequate and medical care is often non-existent.
"Prisons, in general, are no place for children and juveniles," said LICADHO president Dr. Pung Chhiv Kek. "The system is totally incapable of providing for a child's basic needs - education, proper nutrition, medical care, and so on. The experience is more likely to harden juveniles than rehabilitate them."
Distribution packets will include food, toothbrushes, bacterial soap, toys, combs, and other essential items. LICADHO and friends plans to distribute up to 1,200 packages to juvenile prisoners, children living in prison with their mothers, pregnant women and the children of prison guards.
The distributions will take place at the following prisons: Takhmao, CC2, Bantey Meanchey, Battambang, Kampong Chhnang, Pursat, Siem Reap, Svay Rieng, Kampong Thom, Kampong Cham, Sihanoukville, Kampong Speu, Koh Kong and Kampot.
To learn more about the plight of children in prison, please LICADHO's report, "A Review of the Conditions of Mothers, Pregnant Women and Young Children Living in Ten Cambodian Prisons" (June 2010), available at http://www.licadho-cambodia.org/reports.php?perm=141
For more information, please contact:
▪ Dr. Pung Chhiv Kek, LICADHO President 012 940 645
▪ Mr. Ham Sunrith, Deputy Director of Monitoring & Protection 012 988 959
PDF format: Download full statement in English - Download full statement in Khmer