Report
Freedom of Expression in Cambodia: The Illusion of Democracy
Released in December 2010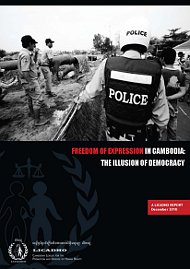 In the six-month period covered in this report, LICADHO documented nearly 50 cases involving violations of expressive rights in Cambodia. These cases follow patterns, and their similarities are not coincidental. They have the markings of a systematic crackdown.
The targets range from community leaders to union representatives to opposition politicians, but anyone who speaks out against the interests of the elite is at risk. As the government has consolidated power, it is growing increasingly intolerant of criticism, more topics are becoming taboo, and the space for dissent is shrinking. The end result is that Cambodians are being prevented from participating in their own democracy.
Click here to reach additional website supplement to the report.