Article
2012 in Review: Use of Force Against Peaceful Protests
Published on February 13, 2013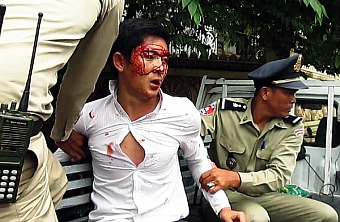 Enlarge this picture
Union leader Rong Panha is beaten and taken away by police during a peaceful gathering on July 11, 2012.
As part of the lead up to the release of our report "Human Rights 2012: the Year in Review," on February 18, LICADHO is publishing a four-part web series reviewing the key human rights of 2012. Daily installments will be published throughout the week, culminating with the publication of our report on February 18.
As the frequency of land grabs has grown, so has the sense of desperation for Cambodians faced with eviction. The perpetrators of land grabs – from business leaders to police to hired hands who carry out actual evictions – operate with near complete impunity. Recourse to the notoriously corrupt judiciary is not an option. For the average Cambodian, the only avenue that offers the prospect of success is civil disobedience, namely public protest and individual action.
The government has become increasingly aggressive in attempting to shut down this avenue as well, despite the fact the vast majority of citizen protests documented by LICADHO during 2012 have been peaceful. Violence is often the government's tactic of choice.
On January 3, for example, a long-standing land dispute in Ratanakiri province between indigenous villagers in Ka Nat Thum and the Vietnamese Heng Brother Rubber Company ended with authorities firing on residents. On the day of the incident, the villagers had mobilized to halt the company from clearing the disputed land. After the local authorities announced that the company would suspend the land clearing, residents walked back towards their village. On their way, they passed a military police officer acting as guard for the rubber company. Thinking the villagers were staging a protest, the officer opened fire twice. The villagers reported the incident to the district governor, but no actions were taken to reprimand the violence.
Similarly, on January 18, military personal acting as security guards for TTY Co. Ltd opened fire on a group villagers who had gathered to prevent the clearing of their farmland in Kratie's Snuol district. Four villagers were injured by bullets as the villagers were trying to stop the company's bulldozers from destroying their cassava fields. None of the authorities present during the shooting proceeded to arrest the perpetrators. Four men – three security guards and a TTY's general manager – were quietly tried in late December, and convicted of illegal use of firearms and intentional acts of violence with aggravating circumstances. Their sentences ranged from two to three years, though in each case the sentence was suspended between six months and a year.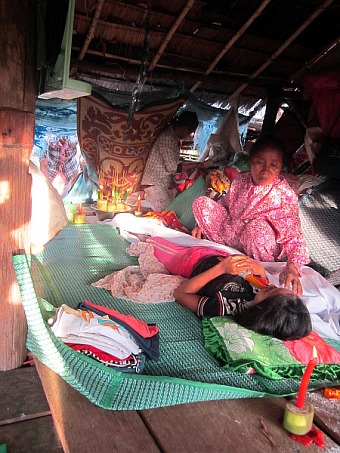 Enlarge this picture
The body of 14-year-old Heng Chantha, who was killed by government forces during a forced eviction in Kratie on May 16, 2012.
In one of the most egregious incidents of reckless government violence, a 14-year-old girl was shot dead in Kratie Province's Broma village on May 16 after hundreds of armed forces stormed her village. Two other villagers were injured. Authorities later sought to justify the excessive force by claiming that the operation was necessary to quell a plot by the villagers to secede from the state of Cambodia. While no one had heard of a secession taking place in the area prior to the lethal forced eviction, the villagers were involved in a well-publicized land dispute with the agri-business company Casotim. No one has been arrested for the killing as the authorities claim an investigation is not needed into this "accidental death."
The escalating use of violence against citizens also resulted in a tragic loss for the environmental community in 2012. Chut Wutty, one of Cambodia's most important environmental activists and director of the Natural Resource Protection Group, was shot dead while accompanying two Cambodia Daily journalists to investigate illegal logging in the Cardamom Mountains. A military police officer was also killed.
Authorities quickly determined that the dead MP shot Wutty, ensuring no one would be prosecuted for his death. They then offered no fewer than four explanations of the MP's own death – including that he shot himself twice with his own AK-47 - while turning a blind eye to the logging crimes Wutty was investigating. The lack of a real investigation into Wutty's killing has sent a chilling message to other environmental activists and NGO leaders.
Workers in Cambodia's vital garment industry have also faced government violence in response to their calls for improved working conditions and increased wages. On February 20, over 1,000 workers from three factories in Svay Rieng's Manhattan Special Economic Zone were protesting their working conditions when a gunman opened fire, injuring three young female workers. The shooter was allowed to flee, despite the presence of military police. He was later identified as a local district governor, Chhouk Bandith.
Bandith was later charged with causing "unintentional injury," a ludicrous charge given that he fired numerous rounds of live ammunition into a crowd of 1,000 workers. He was never placed in pretrial detention, despite having admitted to the prosecutor that he fired his weapon. The charges against Bandith were finally dropped altogether in December.
During a major ASEAN summit in July, authorities unleashed an unprovoked beating on union leader Rong Panha, after he gathered with union workers in a public park to demand living wages. The workers were employed by Tai Yang Enterprises, which supplies international clothing giants Levi Strauss, Gap and Old Navy, among others.
MP3 format: Listen to audio version in Khmer