Article
Authorities Shoot Land Protestor in Latest Use of Lethal Force
Published on January 26, 2019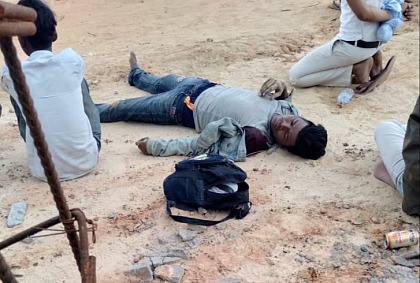 Enlarge this picture
One man was critically injured when security forces opened fire on protestors.
A man was shot and critically injured by mixed security forces after more than 100 police, gendarmes, and soldiers descended on Kokir village, in Preah Sihanouk province, on Thursday morning to enforce a Supreme Court decision awarding disputed land to nine families.
When the heavily armed security forces tried to enter the site in Bet Trang commune, protesters, some holding sticks, burned tires and threw rocks to prevent them. Security forces - including soldiers from Preah Sihanouk provincial sub-operational zone then withdrew, regrouped, and re-entered the village. This time they fired dozens of shots of live ammunition into the air as well as into the crowd in what was a clearly excessive use of force.
At least one person, 28-year-old Pov Saroth, was shot and seriously wounded. A bullet entered his shoulder from behind and became lodged in his spine. Saroth, a construction worker, was left bleeding on the ground for some time before being taken to Preah Sihanouk Provincial Referral Hospital. The severity of the gunshot wound led doctors there to transfer him to Phnom Penh where he was placed in an intensive care unit awaiting surgery. At least four other villagers were arrested and later released.
The protests were a result of a Supreme Court decision on 21 November 2017 that awarded 71 hectares of disputed land to nine families, represented by plaintiffs Chay Narin and Kong Vanna.
Much of the surrounding area is owned or claimed by politically connected tycoons, making it unclear if the families will be the true recipients of the land.
The area in Prey Nob district has a history of violent conflicts caused by land grabbing. In 2007, mixed forces burned the homes and forcibly evicted 105 families from the Speak Ches community (see more). More recently in 2017, 26 families clashed with security forces just 500 metres away from this most recent conflict.
Siv Kong Triv, a powerful tycoon connected to a wide variety of business interests in Cambodia and his wife, Hong Suon, were involved in both of those cases.
In March last year, soldiers also opened fire on a group of protestors at a rubber plantation in Kratie province, shooting three in another example of excessive use of violence by Cambodian security forces.
MP3 format: Listen to audio version in Khmer
19%
23%
38%
19%