Article
Authorities Detain Seven People for Marking Third Anniversary of Kem Ley's death
Published on July 10, 2019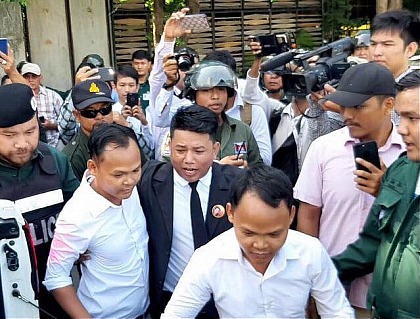 Enlarge this picture
Chum Hout, Chum Hour and Soung Neak Porn are surrounded and arrested by police on July 10, 2019 while marking the 3rd anniversary of Kem Ley's death in Phnom Penh
Authorities detained seven people on July 9 and July 10 for expressing their condolences and support for murdered political commentator Kem Ley, while people marking the third anniversary of his killing at the site of his murder in Phnom Penh were surrounded by police. These detentions mark the continuation of a heavy-handed crackdown by authorities on Cambodians' right to free expression and assembly.
This morning, three activists were detained outside Caltex Bokor petrol station in Phnom Penh – the location of Kem Ley's murder on July 10, 2016 – after they joined other youth activists, union leaders and civil society members to mark the anniversary. The detainees included environmental activists Chum Hout and Chum Hour.
Other activists were not allowed to lay floral wreaths at the petrol station, with dozens of armed police crowding and harassing them while they peacefully drank coffees inside the station. Boeung Kak activist Nget Khun was surrounded as soon as she arrived at the Caltex Bokor station and was physically escorted away by security forces, while students, unionists, youth activists and journalists were pushed and surrounded by at least 50 mixed security forces.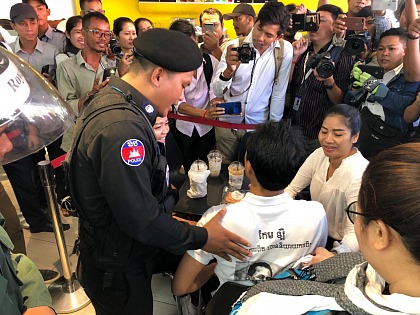 Enlarge this picture
A police officer forces an activist to remove a shirt featuring the image of murdered political analyst Kem Ley.
Yesterday, former student activist Kong Raiya and three family members were arrested by police for allegedly inciting social chaos. While the three family members are still in police custody, Raiya was taken to Phnom Penh Municipal Court for questioning. He was previously arrested in August 2015 and convicted for "incitement to commit a felony" in relation to a Facebook post of his that called for a "colour revolution" - a term the government commonly uses to characterise peaceful movements as acts of violent revolt.
On 10 July 2016, Kem Ley, a respected political commentator and activist, was shot in broad daylight as he sipped his morning coffee at Caltex Bokor. Authorities arrested a former soldier, Oeuth Ang, who was convicted on March 2017 and sentenced to life in prison following an investigation and trial that were widely criticised by international and local observers as inadequate and insufficient. Fearing for her family's safety, Ley's wife, Bou Rachana, was granted asylum in Australia along with her five sons.
MP3 format: Listen to audio version in Khmer
21%
24%
32%
24%