Flash News
Another high profile case reaches Appeals Court; Mam Sonando's hearing to continue tomorrow
Published on March 5, 2013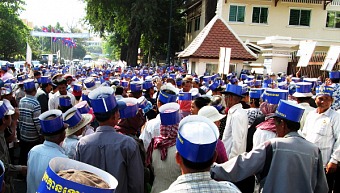 Enlarge this picture
Over a thousand citizens gathered in front of the Appeals Court to offer support to Mam Sonando on the first day of his appeal hearing.
On the morning of March 5, 2013, the Appeals Court opened a hearing to review the verdict against independent radio owner Mam Sonando and two co-defendants, Touch Ream and Kan Sovann. The court was standing room only for the proceeding, with around 55 people, including numerous international observers, in attendance. The hearing follows the September 2012 trial in Phnom Penh's lower court which resulted in a widely condemned 20-year-long prison sentence for 72-year-old Sonando. No evidence of Sonando's involvement in an alleged "secession" in Kratie province was presented during the trial, nor was there any evidence that a secession movement even existed.
The hearing is expected to end tomorrow.