Flash News
Mother Nature Activists Convicted by Koh Kong court
Published on January 26, 2018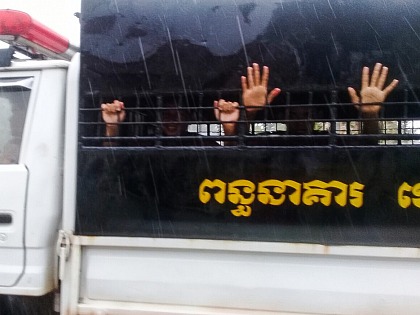 Enlarge this picture
Dem Kundy and Hun Vannak leaving Koh Kong provincial court on 26 January 2018.
Koh Kong provincial court convicted two Mother Nature activists today on the charge of violating privacy and incitement and sentenced both to one year in prison with seven months suspended. They were also fined 1,000,000 riels each (US$250).
Dem Kundy and Hun Vannak were convicted under article 302 (unauthorised recording of a person's image) and article 495 (incitement to commit a felony) of the Criminal Code.
The sentences, announced by Judge Keo Sokha, came just a day after their trial where the defence argued that there was insufficient evidence to convict them of incitement or invading the privacy of the LYP Group which brought the complaint.
Shortly before their arrest on 12 September 2017, the environmental activists had filmed cargo ships suspected of transporting illegally dredged sand. They recorded the footage from a boat in open waters. For a recording to be a violation of privacy under Cambodian law it must include a person's image, taken without permission while on private property.
Kundy and Vannak are recognised by Amnesty International as Prisoners of Conscience. As they have been held in pre-trial detention since their arrest, the pair are expected to be released within weeks.
11%
0%
67%
22%