Statement
Appeals Court Upholds Groundless Conviction of LICADHO Staff
Cambodian League for the Promotion and Defense of Human Rights (LICADHO)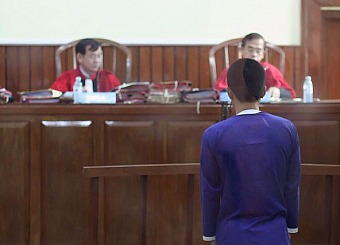 Enlarge this picture
Sokchoeun's appeal hearing lasted two hours and failed to provide any evidence of his guilt.
July 14, 2011 - The Cambodian League for the Promotion and Defense of Human Rights (LICADHO) strongly denounces the Appeals Court's decision to uphold Leang Sokchouen's two-year prison sentence and to change the conviction using legal provisions that were non-existent at the time of the alleged offense.
On August 30, 2010, the Takeo provincial court sentenced Sokchouen to two years in prison on charges of disinformation. The prosecution did not present any in-court witness testimonies or credible evidence. The trial judge only relied on written statements by four dubious witness statements from police officers, ignoring in-court testimony in favor of Sokchouen's innocence.
On Thursday, July 14, 2011, the Appeals Court judge Pol Sam Oeun issued a verdict upholding the lower court's verdict against Sokchouen after a two-hour long trial that took place on June 30, 2011, which failed to present any evidence of Sokchouen's guilt.
In an unexpected move today, judge Pol Sam Oeun changed the original conviction against Sokchouen from disinformation, Article 62 under UNTAC's criminal code, to incitement, Article 495 under the new Penal Code.
This decision blatantly contradicts well-established principles of criminal law in that it convicts Sokchouen under a legal provision that did not exist at the time of the alleged crime.
"This surprise change in conviction appears to have no legal grounds since it was never mentioned during the June 30th appeal hearing", says LICADHO President Dr. Pung Chhiv Kek.
Article 671 of the new Penal Code stipulates that Sokchouen's case should be reviewed on the basis of the criminal code that was in effect at the time of his alleged offense on January 4, 2010, that is the UNTAC criminal code. The court violated that article when it changed Sokchouen's original sentence to incitement under the new Penal Code, which only came into force in December 2010, nearly a year after the alleged offense.
Moreover, the Court's actions are in violation of Article 5 of the new Penal Code, which states that a judge may neither extend the scope of a law's application nor interpret it by analogy. In this case, Judge Pol Sam Oeun attempted to justify the change in Sokchouen's charge by stretching the parameters of Article 10 of the new Penal Code, which implies that a new provision, which prescribes a lighter penalty, shall be applicable immediately. This argument could only be valid if the lower court had charged Sokchouen with incitement under the UNTAC criminal code, which it did not.
LICADHO believes that this alarming maneuver by the Appeals Court acknowledges that Sokchouen's disinformation conviction was unfounded from the beginning and that the lower court should not have found him guilty.
"Sokchouen has always maintained his innocence as we do", says LICADHO Director Naly Pilorge. "In essence, the judge effectively acquitted Sokchouen of the original conviction against him yet denied him his freedom."
For more information, please contact:
▪ Dr. Pung Chhiv Kek, President of LICADHO, 012 802 506
▪ Naly Pilorge, Director of LICADHO, 012 803 650
PDF format: Download full statement in English - Download full statement in Khmer