Article
Cambodia Civil Society Restrictions Still in Place on Human Rights Day
Published on December 10, 2018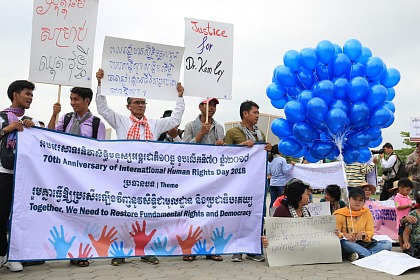 Enlarge this picture
At least 300 gathered in Phnom Penh on 10 December, despite authorities banning a planned march and deploying a heavy security force presence.
Phnom Penh municipality banned a Human Rights Day march planned for this morning but celebrations went ahead nonetheless amid a heavy police presence at a government-approved location four kilometres from the city centre. Security forces wearing crash helmets outnumbered participants and cordoned off the square.
Several hundred garment workers, farmers, teachers, trade unionists, community representatives and youths attended the event organised by trade unions and associations at the so-called "new" Freedom Park in Russey Keo district. The municipality threatened legal action if the organisers went ahead with a march affecting "security and public order", despite the fact that 10 December is an annual public holiday with far less traffic in the city.
Despite recent government declarations about the lifting of restrictions on civil society groups, authorities continued to restrict the movements of communities across the country, preventing them from gathering in public, demanding letters of permission and dictating where they could meet.
In Ratanakiri youth groups and communities reported repeated harassment from the provincial governor's office, including demands for written requests to hold an event and threats of arrest if certain conditions were not met.
In Banteay Meanchey authorities stopped almost 300 villagers (six communities) from joining a gathering in Serey Sophorn City. Villagers were prevented from leaving their villages and were stopped along the road. They were told they needed letters of permission from district and provincial authorities to attend the event.
Five rural communities gathering in Koh Kong town were forced to move their celebration from the town's stadium to a conference hall.
Despite the intimidation and restrictions, communities around the country marked human rights day with theatre, music and discussions, and called on the government to respect human rights and tackle ongoing violations.
More than 7,000 people gathered in 13 provinces and the capital between 5 December and 10 December, which is celebrated around the world as Human Rights Day to commemorate the 1948 adoption of the United Nations' Universal Declaration of Human Rights.
MP3 format: Listen to audio version in Khmer
29%
14%
43%
14%
Topics & Tags
Related Material